About Us
The Key Guy's Owners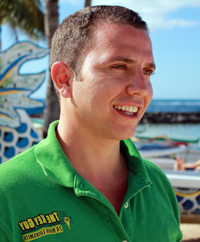 Guy Tordjman,
Master Locksmith
Guy is the original "Key Guy." After completing a year-long comprehensive locksmith training program in San Francisco, Guy moved back to the islands to work for a large, national locksmith company.
After a few years of running the Hawaii branch of a large corporation, Guy decided that Hawaii was in need of a quality, masterful locksmithing service that worked on the local level. Guy envisioned this new company as a fountain of the Aloha Spirit. His company would provide unparalleled service, paired with specialty knowledge of Hawaii's building materials, crime climate, and modern industry standards. With years of experience as a Professional Locksmith under his belt, Guy founded The Key Guy in 2008. He earned the distinguished certification of Master Locksmith from Phoenix State University in 2009, became a Certified Registered Locksmith by ALOA standards in 2010, and and continues to earn certifications in new fields such as CCTV and Burglar Alarms as a bonded member of ALOA and the Save and Vault Technicians Association. In 2010 Guy became Factory Certified in Kaba E-Plex Keypad and Proximity Locks, Video System Technologies and a Level 1 Certified Alarm Technician at the Electronic Security Association National Training School. Guy is also a Certified GSA Container Inspector and Certified GSA Technician.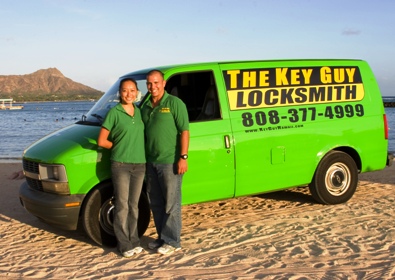 The Key Guy's operations hinge on customer loyalty and 100% customer satisfaction. The Key Guy's dedication to its customers has provided us with a broad base of satisfied kama'aina clientele. Guy prides himself on overseeing all aspects of the business himself, lending his warmth and solid character to the entire Key Guy team.
When he isn't running the company, Guy enjoys playing guitar, carpentry, baking his famous tuxedo cheesecake and delicious flan, salsa dancing, learning new languages (he speaks six), science fiction shows, and entertaining his lovely Kimberly.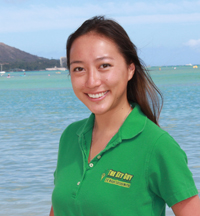 Kimberly Tordjman
Co-Founder
After watching Guy rescue a suffocating baby from inside a locked car at Hanauma Bay, she knew the locksmith business was for her. Locksmiths could be modern-day heroes (hence the superhero logo; see story below)! Kimberly loves that locksmithing is a business based on people helping people.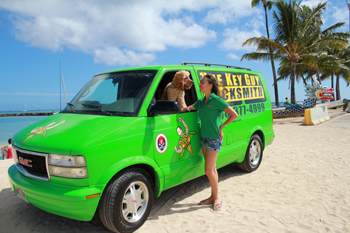 Her proudest Key Guy moment yet is winning "Best Locksmith Website in the World" for keyguyhawaii.com as voted on by the 2010 Associated Locksmiths of America. She is also thrilled that her locksmith peers voted The Key Guy vans runner-up "Best Locksmith Van in the World" in 2010. Kimberly currently directs The Key Guy's marketing agenda.
She is also the co-founder of Epica Latin Dance Company and Magnetic Moments, bringing customized photo-magnet souvenirs to Hawaii weddings and parties. Member of the National Association of Professional Women, and an active member of Associated Locksmiths of America. Kimberly is a graduate of Pomona College and Iolani School.
The The Key Guy Company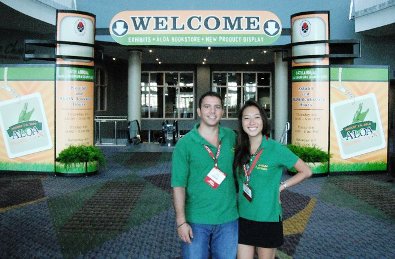 At The Key Guy, we strive to be "key" to your security. We are dedicated to the science of making keys and the art of defeating locks--with a smile. The owners founded The Key Guy as a fountain of Honesty and Aloha in Hawaii. When you call us, you will always speak to a locksmith familiar with Hawaii street names and every neighborhood on Oahu. And yes, we're frequent visitors to all the military bases. Your locksmith will advise you about your problems, and already know how to fix it when he arrives.
Our mobile workshops are something to be rivaled around the world--in fact, The Key Guy won 2nd in The Best Locksmith Van in the World contest recently (entry)! And do you like our website? This very website won 1st prize in ALOA's 2010 Best Locksmith Website in the World Contest! The contests were decided by popular vote of member locksmiths across the country.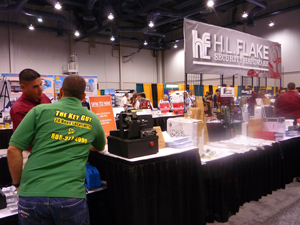 Trust us. Our staff continues their education in the best locksmith techniques with Associated Locksmith of America courses. We also attend the annual ALOA Convention and Security Expo, outfitting ourselves with the latest in security technology each year.
The Key Guy's operations hinge on customer loyalty and 100% customer satisfaction. As accredited members of the Better Business Bureau, we operate with high ethical standards. Our biggest source of jobs is word of mouth and repeat business.
We are a woman-owned, minority-owned, economically disadvantaged small business.
Diamond Head & Kapahulu Locksmith > About Us
> Mission
> Company
> Owners
> Clients & Testimonials